Fiesta Bowl 2000
Nebraska vs. Tennessee
Fiesta Bowl 2000 in Tempe Arizona was the place to be for Husker fans as the Cornhuskers whipped Tennessee 31-21 in front of a sold out crowd .Again the Huskers owned Sun Devil Stadium,the same place they won a national title in 95, with their die hard fans dwarfing the Tennessee followers,and the Husker's thumping the Vols for the second time in 3 years.
<![if !vml]> <![endif]>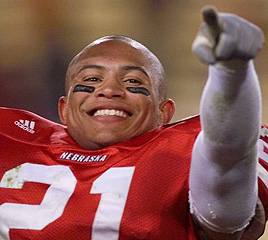 Defense
The Husker defense,known as the blackshirts,continued to do what they have done all year,shut down offenses with their speed and with one exception win football games.Although Tennessee had some drives,the Husker defense pretty much shut them down,and with the offense running time off the clock with some impressive drives of there own Tennessee didn't have a chance.It was Husker football at it's finest.(Not quite as fine as the Fiesta Bowl game against Florida a couple years back ,but still mighty fine)
<![if !vml]> <![endif]>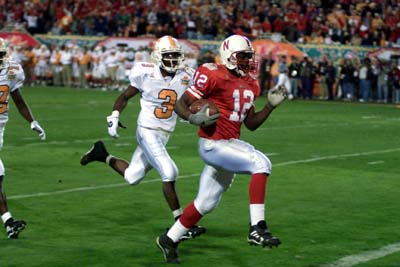 McBride Retires
The Husker's defensive coordinator Charlie McBride retired after the game. It was a year in wich he had coached one of the best defenses ever at Nebraska.Chuck has been a coach for the Cornhuskers for 23 years,and is one of the best in the bussiness.Good luck Chuck ,we'll miss ya!!

A cold beer and some Husker football.
Fiesta Bowl Scoring Summary and more.