Crouch Ready for 2001
Nebraska quarterback Eric Crouch was ready for his final season as the Huskers offensive leader. Crouch had spent the off season getting and recovering from shoulder surgery for the second time in as many years. A starter the past two years he felt comfortable sitting out spring ball to rest the shoulder while backup Jammel Lord ran the offense.

Now the senior is bringing home the Heisman Trophy. He has reached the pinnacle of Husker and college football immortality joining the ranks of Husker legends Johhny Rodgers and Mike Rozier. Winning the Heisman will add fuel to the fire in the debate over who was the greatest Husker quarterback of all time, but in 2001 it's Eric Crouch who stands alone atop college football as it's best player.

Eric Crouch ranks among the Nebraska Cornhusker's career top 10 in nearly every category and ranks as Nebraska's all-time best rushing quarterback. He has passed several spectacular Husker QBs, including Tommie Frazier (the 1995 Heisman runner-up that led the huskers to back-to-back national championships in 1994 and 1995), Scott Frost (led Huskers to a national championship in 1997) and Turner Gill (fourth in 1983 Heisman race, led the huskers to the national championship game in 1983).Crouch also passed 1983 Heisman Trophy winner Mike Rozier on the Husker total offense chart.
Heisman Trophy Winner in 2001
Crouch is the 17th quarterback to win the Heisman and the first true option quarterback in the 67-year history of the award. He has posted a 35-6 career record as a starter, a remarkable feat which ranks fourth best among Division I-A quarterbacks all time.
He has put up incredible numbers, ranking fourth all time in NCAA history in rushing among quarterbacks with 3,434 career yards and bettering the NCAA record for rushing touchdowns by 10 with 59. He ranks third at NU and seventh in the Big 12 in passing with 4,481 yards, becoming just one of three quarterbacks in NCAA Division I history to rush for 3,000 and pass for 4,000 yards.
He became the 13th quarterback to rush and pass for 1,000 yards in a season and has 1,115 rushing and 1,510 passing yards with 18 and seven TDs, respectively. Crouch's season rushing yards more than double that of the most by any Heisman quarterback (Oregon State's Terry Baker had 538 in 1962). The only thing he hasn't done is win a national championship, but only 10 of the 66 winners all-time have done so in the year they won the award, just four since 1950. Crouch will get his dream chance to do both as the Huskers take on Miami in the Rose Bowl on Jan. 3. Crouch was a first-team All-American and won the school's second Walter Camp Player-of-the-Year Award and the school's first Davey O'Brien trophy.
Carreer Rushing and Passing Stats at Nebraska
Eric Crouch

Career Rushing:

1998
8/5
96
459
4.8
57.4
5

1999
12/10
180
889
4.9
74.1
16

2000
11/11
169
971
5.7
88.3
20

2001
12/12
203
1,115
5.5
92.9
18

Totals
43/38
648
3,434
5.3
79.9
59
Career Passing:

1998
8
101
49
4
48.5
601
4
103.65

1999
12
160
83
4
51.9
1,269
7
127.93

2000
11
156
75
7
48.1
1,101
11
121.66

2001
12
189
105
10
55.6
1,510
7
134.31

Totals
43
606
312
25
51.5
4,481
29
121.14
Omaha Nebraska Native
Crouch attended Millard North High School in Omaha Nebraska. Only two other Omaha men have won the Heisman. The last time that happened was in 1971 when Johnny "the jet" Rodgers won the prestigious award..
The Heisman award ceremony took place at the Marriott Marquis in New York. The ceremony could not be held in the Downtown Athletic Club because it was damaged during the Sept. 11 terrorist attacks by the scum sucking Osama Bin Laden.
Crouch has set carreer records for rushing yards,attempts,and touchdowns. He has led Nebraska to two consecutive bowl wins, including a dominating 66-17 blowout of Northwestern in last year's Alamo Bowl.
Eric Crouch's Carreer Highlights
Crouch has led the Huskers to 35 wins with only 6 losses in his four-year career and is just four wins behind NCAA record-holder Peyton Manning (39). He is 11-1 in 2001.
The Walter Camp Award winner and a Maxwell player-of-the-year finalist,
Crouch is one of three Division I-A quarterbacks with 3,000 rushing (3,424) and 4,000 passing (4,481) yards.
Crouch owns the NCAA Division I-A quarterback record with 59 career rushing touchdowns, which is 10 better than the previous record.
A Johnny Unitas Award finalist, Crouch tied the NCAA Division I-A quarterback record with 20 rushing touchdowns in 2000 and with 18 this season, tying the NCAA record for most rushing touchdowns in a two-year period with 38.
A versatile athlete, Crouch tied the NCAA Division I-A record by scoring a touchdown by rush, pass and reception in one game (one quarter) vs. California in 1999. Crouch also caught a game-clinching 63-yard pass for a score in the win over No. 2 Oklahoma.
The Davey O'Brien Award winner, Crouch owns the Big 12 record for most rushing yards by a quarterback (3,434) and ranks fourth all time in NCAA Division I-A (418 off record).
Crouch became the 13th player in NCAA Division I-A to rush and pass for 1,000 yards in a season, finishing with 1,510 yards passing and 1,115 yards rushing in 2001. His season total would rank first among Heisman Trophy winners, ahead of Terry Baker (538, Oregon State, 1962) and Davey O'Brien (462, TCU, 1938).
A first team All-American selection, Crouch ranks third among all NCAA rushers in 2001 with 18 touchdowns. He averages 92.9 yards per game and 5.5 yards per carry.
Crouch has accounted for 523 additional yards by way of the option (pitches). With those yards he is accountable for 3,211 of NU's 5,414 total-offense yards this season (59.3) percent.
Crouch ranks second in the Big 12 and sixth among non-kickers in NCAA Division I history with 368 points.
Crouch, who has accounted for 25 touchdowns in 2001 has a pass efficiency rating of 134.31 and has completed 56 percent of his passes.
Crouch became the first Nebraska quarterback in 18 years to throw for 1,500 yards in a single season.
A two time Big 12 offensive player of the year after winning that honor again in 2001.
Recorded the longest rushing TD in Nebraska football history with a 95 yrd scamper against Missouri.
Crouch can Boast a 1.55 10-yard and a 4.47 40-yard dash time, the fastest NU quarterback ever.
National Championship Dreams For Crouch
All the records and adulations,and the legacy Crouch leaves behind were not hinged on winning the Heisman Trophy, but on reaching the championship game. Frazier and Frost won it all their senior years, and Eric was expected to do the same in Big Red country. With only 4 returning starters on offense the task was huge indeed. Gone was Matt Davidson his wide reciever and 2 running backs who both ran for over 2000 yards in their carreers Alexander and Buckhalter. On top of that an injury depleted offensive line struggled at times this season.
"This is my grand finale, my opportunity to go out on top," Crouch said. "The last two years I have been a disappointment to myself as I have not been able to lead us to the championship. I know that it would be something great for the program, my career and whatever type of legacy I leave behind, but I do realize that it would be important for this whole team to win a national championship."

Crouch, who Solich labeled "the fastest quarterback we have ever had at Nebraska," was able to guide the team to a 7-0 start last season, but an October showdown with the Oklahoma Sooners changed everything. In 2001 a stunning loss to Colorado in the last game of the season appeared to end all National Championship hopes again.The Huskers seemed to have good luck on their side though.

The week after the Colorado loss #2 Florida, #3 Texas, #4 Oklahoma all were upset.Then on the same day Crouch won the Heisman #2 Tennessee was upset by LSU in the SEC Championship sending #3 Nebraska to the Rose Bowl against #1 and undefeated Miami for all the marbles.

Crouch was also considered a contender for the Heisman Trophy and All-America honors last year after sharing the Big 12's Offensive Player of the Year award in 1999. But such individual accolades matter little to the Omaha, Neb., native.

"I remember someone telling me about the Heisman Trophy one time, and I told them I didn't want to win," Crouch said. "They said I must be crazy, but there are a lot of things that can distract you from winning football games. I still want to go out every Saturday and win games for this program."

"It was something I noticed last year. A lot of things you see on covers of magazines or write-ups can distract you from your goal, so stay focused on what I can do training-wise, in the weight room, studying film and things of that nature," Crouch said. "Those are things that once they are brought up, they go in one ear and out the other."

Crouch did win the Heisman, and deserving of it was he indeed. Not only did he have an excellent season, but Eric has completed a tremendous carreer at Nebraska. All the trophies, awards won, mvp honors, Big 12 honors will attest to that. One of the most electrifying ball carriers in Nebraska's history leaves behind many a great play for us to remember him by. All the hardware to show his children some day but the one thing Eric craved the most was the most elusive in the end, a National Championship.

An interesting debate will ensue without a doubt as to who really was the greatest Husker qb ever.Crouch holds almost every record for qb's at Nebraska and many for total offense and points scored, rushing attempts and so on. But although his records were overtaken by Crouch , a man named Tommy Frazier who was 33-3 as a starter left Lincoln with two National Championships. Lest us not forget that Tommy also was the best player, on the best team in college football his senior season. He was screwed out of winning the Heisman but was just as deserving if not more so of it.

There were also two other great Nebraska signal callers that won championships. Scott Frost being one of them, but because he transfered from Stanford and only started for two seasons his stats cant compare to Crouch or Frazier's. Scott did become only the 11th player ever to rush and pass for 1000 yrds in a season.

Lets not forget about Jerry Tagge who still deserves every bit as much consideration as his counterparts. Tagge was more of a traditional qb who was a more effective passer and still holds the record for carreer passing yards at UNL. Jerry didn't have the huge number of carreer starts like Tom and Eric but he was an exceptional player who led his team to the promise land. Was he better than Crouch? Define better! Is better winning a National Championship, or can it be defined by statistics and records held, or is better determined by individual honors like the heisman? Whatever your criteria the debate will no doubt be an interesting one.

Any way you look at it Crouch is in good company and we didn't even mention David Humm, Vince Farragamo, Turner Gill, Steve Taylor, or Van Bronson. Non of them will make much of an argument for the greatest ever tag but all were very gifted.

8-18-2001 updated 1-6-2002
Garry Eacker
Sharkfeet Husker Football

@2001 SHARKFEET All Rights Reserved

Sharkfeet is not associated or affiliated with the University of Nebraska.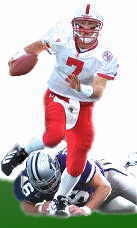 Eric Crouch-Nebraska QB

Pictures-Audio-Video

.
.

.