Oct. 31, 1959
Huskers End Oklahoma's Conference Winning Streak
Nebraska 25, Oklahoma 21

Nebraska entered the 1959 homecoming contest in Lincoln, Nebraska at Memorial stadium as a huge underdog to Bud Wilkinson's Oklahoma Sooner's,a team that had won 74 consecutive conference games without defeat. The Nebraska Cornhuskers stunned the Sooners and the nation by beating Oklahoma, 25-21, at Memorial Stadium, ending what seemed an unstoppable record breaking streak.

Nebraska had seen 17 consecutive defeats to Oklahoma prior to the 1959 contest.For a minute it looked as though the Sooners would validate the mystic they provoked in every opponent,but the Huskers held off a last minute Oklahoma comeback attempt when Ron Meade intercepted a Bobby Boyd pass in the Nebraska end zone.

The Cornhuskers huge upset victory erupted into a wild celebration in Lincoln and the state of Nebraska. A Homecoming crowd of Husker faithfull stormed the field and tore down the goal posts, which were paraded all around town. Pieces ended up at fraternity houses and on the front lawn of the governor's mansion. Chancellor Clifford Hardin canceled classes on Monday so students could have an extra day to celebrate.
The game remains one of the greatest victories in Husker and college football history, and one one the worst defeats suffered by the Oklahoma Sooners.
Sharkfeet-Your source for:

---
Site Links: Polls | Radio | Tickets | History | Roster |
News | Links | Headline News E-Mail | Big 12 |
Depth Chart | Statistics | Pictures | Memorial Stadium
Television Winning Tradition | Recruiting | Schedules |Scores | Vote | Jokes | Husker Trivia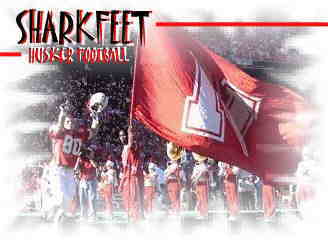 Husker History
SHARKFEET
*Your online guide to the Huskers*
This Husker website is in no way affiliated with the University of Nebraska or any of its entities.Sharkfeet is a fan site intended to be viewed for entertainment purposes only.

WEBMASTER contact for questions etc.