Rose Bowl
DATE: Thursday, Jan. 3, 2002
TIME: 7 p.m. Central
SITE: Pasadena, Calif
STADIUM: Rose Bowl
CAPACITY: 91,136
TURF: Natural Grass
NEBRASKA RADIO: Pinnacle Sports Network (Warren Swain-Play-by-Play; Color-Adrian Fiala; Dave Webber-Halftime Studio Host)
NATIONAL TV: ABC (Keith Jackson-PBP; Tim Brant-Color; Lynn Swann and Todd Harris-Sideline)
NATIONAL RADIO: ESPN Radio (Ron Franklin-PBP; Mike Gottfried-Color; Adrian Karsten-Sideline)
Live Stats vs.Miami | Live Audio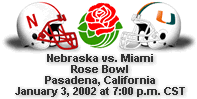 ---
The 88th Rose Bowl 2002
Box Score (Final) MIAMI vs NEBRASKA (Jan 3, 2002 at Pasadena, CA)
Score by Quarters 1 2 3 4 Score ----------------- -- -- -- -- -----
MIAMI..................... 7 27 0 3 - 37 .....Record: (12-0,7-0)
NEBRASKA.......... 0 0 7 7 - 14 .......Record: (11-2,7-1)
Rose Bowl, Pasadena Ca.I know I have seen that Nebraska football game before somewhere. Could it have been the Colorado game a month ago? Or am I thinking about the Orange Bowl. Doesn't matter which season as long as it was prior to 1994, if Nebraska was there, they were getting drilled by a Florida team that had way to much speed.
Usually that team was Miami as was the case Thursday night at the 88th Rose Bowl in Pasadena California where the largest crowd ever to watch a Husker football game was witness to a slaughter. The recipient unfortunately was the Huskers who were embarrassed 37-14 by the Hurricanes, in the National Championship game. Miami now holds that crown after completing an undefeated season(12-0) and leaving no doubt in anyones mind that they are deserving of it.
Miami totaled 472 yards of total offense, including 362 yards passing by Ken Dorsey, while the Huskers (11-2) were held to a season-low 239 yards. The Hurricanes took advantage of a rash of Husker errors in the first-half , converting two turnovers into 14 points.The Canes built an impressive 34-point halftime lead.
The 99 points allowed over the past two games (62 at Colorado and 37 vs Miami) is the most allowed in consecutive games since the 1945 season, when NU allowed 61 points to Minnesota and 54 to Indiana . With the loss, Nebraska dropped to 5-8 in games that have decided at least a share of the national title,after winning thier last 3.
Early into the game it was painfully obvious that the Colorado game was not an abboration or a "bad day" as players and coaches have been telling us. No, that game was a very accurate indicator of Nebraska's level of play against the upper tier of teams. Miami didn't wait long to exploit the slower, poorly coached Huskers weaknesses as they built a 34 point halftime lead.
After exchanging punts on their first possessions, the Huskers forced a turnover on the Hurricane's second possession, as Keyuo Craver intercepted a Dorsey pass at the NU 33. The Huskers got a first down, but were unable to convert, as Crouch fumbled (recovered by William Joseph) and Miami recovered on the Nebraska 49-yard line. The miscue would prove to be costly, as Dorsey connected with Andre Johnson for a 49-yard touchdown seven second later to give the Hurricanes a 7-0 lead. Nebraska fell behind 14-0 with 14:33 remaining in the half after the Hurricanes marched 86 yards on five plays, capped by Clinton Portis' 39-yard touchdown run.
Miami's defense forced another turnover on the Huskers' next possession, as Crouch's pass went over the hands of Tracey Wistrom and was picked off by James Lewis, who returned it 47 yards for the score. Miami increased its lead to 34-0 at the half as Dorsey connected on touchdown passes to tight end Jeremy Shockey (21 yards) and Johnson (eight yards). Nebraska got on the scoreboard late in the third quarter, as Judd Davies rambled 16 yards for a touchdown, culminating a 68-yard drive to cut the UM lead to 34-7. The Huskers closed to within 20 after DeJuan Groce returned a Hurricane punt 72 yards for a touchdown – his second of the season – with 14:28 remaining before Miami closed the scoring with Todd Sievers' 37-yard field goal with 10:04 remaining
The Blackshirts weren't the only ones outclassed on this night ,the coaches should be embarrassed if they thought they had prepared the Huskers for this game,the offense was one dimensional at best, and severally overmatched at worst. Seven of Nebraska's points came from a Groce punt return for a TD. If you can only muster 7 points in a National Championship game, and you have the Heisman Trophy winner on your team, you are in big trouble. Whats wrong with that picture? For starters Miami was so much faster than the Huskers, it was rediculous. Secondly a whino picked up off the street could have done a better job play calling than Solich. While we are talking about Frank I must wonder aloud "wasn't he paying attention all those years when Osborne was calling the shots, and game plans were devised, strategy discussed? Because there was no game plan and strategy is just an 8 letter word to "Franky boy".I can only hope everyone had a good time partying in California because they weren't there to play football.
Largest Crowd in School History: Tonight's attendance of 93,781 marks the largest crowd to ever see Nebraska play, topping the estimated 92,000 that saw Nebraska in its first Rose Bowl appearance in 1941. In fact, counting tonight's crowd, three of the five highest attended games in Nebraska history have come in the Rose Bowl.
Turnovers: Nebraska-3 (one interception and two fumbles); Miami-1 (one interception). Nebraska forced the game's first turnover as Keyuo Craver intercepted a Ken Dorsey pass on Miami's second possession. The Huskers did not convert, as Eric Crouch fumbled on the subsequent possession. Miami needed only play to convert, as Dorsey connected with Andre Johnson with a 49-yard touchdown pass on the next offensive play. In all, Miami converted Nebraska's three turnovers into 14 points. James Lewis' 47-yard return marked the first time Crouch had an interception returned for a score since Oct. 28, 2000, when Oklahoma's Derrick Strait returned an interception 32 yards for a score. Entering the Rose Bowl, NU opponents had only scored 34 points on 25 turnovers, but Miami, which led the nation in turnover margin, converted NU's three turnovers into 14 first-half points.
Quarterback Eric Crouch: The Heisman Trophy winner finished his career with his 17th career 100-yard game and first in a bowl game, carrying 22 times for 114 yards, the second-highest rushing performance in a bowl game by a NU quarterback and the ninth-best bowl total in school history. The senior, who was looking to become the first Nebraska quarterback to win three bowl games since Dave Humm (1972-74), accounted for 176 of Nebraska's total offensive yards and was held without a touchdown for the first time this season and the first time since Sept. 18, 1999, against Southern Miss. Crouch, finished his career second on NU's bowl passing charts with 492 yards, completed 5-of-15 passes for 62 yards with an interception. He finishes his NU career with a 35-7 record. His career bowl rushing total was 10 yards short of the career top-five in NU bowl history.
Total Offense: Miami held Nebraska to a season-low 239 total yards, joining Notre Dame (270 yards on Sept. 8.) as the only teams to hold Nebraska under 300 yards. The Hurricanes also held the Husker ground attack to just 197 yards, nearly 120 yards below its nation-leading total of 315 yards rushing per game. I-backs Dahrran Diedrick, who had seven 100-yard games this year and lead the Big 12 in rushing was held to 47 yards on 15 carries.
Cornerback DeJuan Groce: The junior turned in the second-longest punt return in Nebraska bowl history with his 71-yard punt return (set up by blocks by Lornell McPherson and Jerrell Pippens) with 14:28 remaining. Groce, who ranked seventh nationally in punt returns at 14.2 yards per return, returned his second punt of the season for a score (also vs. Kansas State). The punt return for a score was the first by a Nebraska player in a bowl game since Bobby Newcombe returned a kick 60 yards vs. Tennessee in the 2000 Fiesta Bowl and the fourth punt return in NU bowl history. Johnny Rodgers holds the NU bowl record with a 77-yard punt return against Alabama in the 1972 Orange Bowl. Groce, finished with 85 yards on three punt returns.
Fullback Judd Davies: The sophomore scored his fifth touchdown of the season, capping a 11-play, 68-yard scoring drive late in the third quarter with a 16-yard touchdown run. He finished with 16 yards on five carries.
Cornerback Keyuo Craver...The senior All-America from Harleton, Texas, turned in the Huskers' first turnover, intercepting a Ken Dorsey pass with 8:59 remaining in the first quarter. It was Craver's fourth interception of the season, eighth of his career and first in a bowl game.
Quick Notes: The last time Nebraska was shut out in a half came at Kansas on Oct. 30, 1999, when the Huskers trailed 9-0 before coming back to win 24-17...the 34 points in the half was the most allowed by the Huskers in the first half in a bowl game, topping the previous mark of 24 allowed three times, most recently the 1991 Citrus Bowl (also against Alabama in the 1966 Orange and 1967 Sugar Bowls)... Miami's Andre Johnson finished the evening with seven catches for 199 yards and two touchdowns, breaking the Nebraska bowl opponent record for receiving yards which was held by Alabama's Ray Perkins (9-178)...Portis finished with 104 yards, becoming the fourth opposing back to top 100-yards vs. NU this season.
- MIAMI -- NEBRASKA
FIRST DOWNS................... 18 16
RUSHES-YARDS (NET)............ 26-110 49-197
PASSING YDS (NET)............. 362 62
Passes Att-Comp-Int........... 35-22-1 15-5-1
TOTAL OFFENSE PLAYS-YARDS..... 61-472 64-259
Fumble Returns-Yards.......... 0-0 0-0
Punt Returns-Yards............ 4-37 3-85
Kickoff Returns-Yards......... 2-27 5-119
Interception Returns-Yards.... 1-47 1-0
Punts (Number-Avg)............ 4-35.8 5-40.6
Fumbles-Lost.................. 2-0 4-2
Penalties-Yards............... 12-85 4-26
Possession Time............... 25:44 34:16
Sacks By: Number-Yards........ 3-26 0-0

RUSHING: MIAMI-PORTIS, Clinton 20-104; McGAHEE, Willis 2-7; GORE, Frank 2-3; HURRICANE 2-minus 4. NEBRASKA-Crouch, Eric 22-114; Diedrick, D. 15-47; Davies, Judd 5-16; Zajicek, Ben 1-10; Collins,Thunder 6-10.
PASSING: MIAMI-DORSEY, Ken 22-35-1-362. NEBRASKA-Crouch, Eric 5-15-1-62; Diedrick, D. 0-0-0-0. RECEIVING: MIAMI-JOHNSON, Andre 7-199; SHOCKEY, Jeremy 5-85; BEARD, Kevin 4-41; PORTIS, Clinton 4-26; JONES, Daryl 1-7; WILLIAMS,Robert 1-4. NEBRASKA-Thomas, Wilson 3-36; Wistrom, Tracey 2-26.
INTERCEPTIONS: MIAMI-LEWIS, James 1-47. NEBRASKA-Craver, Keyuo 1-0. FUMBLES: MIAMI-McGAHEE, Willis 1-0; PORTIS, Clinton 1-0. NEBRASKA-Zajicek, Ben 1-0; Crouch, Eric 1-1; Diedrick, D. 1-0; Davis, Josh 1-1.
Final Comments:Frank Solich Sucks! He needs to hire an offensive coordinator.He needs to hire a defensive coordinator.He needs to get his act together or move on.
---
National Championship On The Line-Pre-game stories and stats
Nebraska last played Miami at the Orange Bowl in 1995 when a 24-17 victory gave Tom Osborne his first National Championship as head coach of the Huskers. Led by Heisman runner up Tommy Frazier Nebraska executed a thrilling fourth quarter comeback to break the curse the Hurricanes seemingly held over the Huskers at the Orange Bowl, especially in championship games.Miami holds a 3-2 edge in bowl games, but with the national championship on the line Miami has a 3-1 edge, including a classic 31-30 win over the Cornhuskers in the 1984 Orange Bowl that gave the Hurricanes their first national championship. Nebraska leads the all-time series 5-4-0.
Although these two teams rarely meet, an intense rivalry exists between them. It would seem that the only time they meet is when its for all the marbles as it was this year. Miami has beaten Nebraska to win the title 4 times in 83,89,91,2002 and Nebraska has done it once to the Canes in 95.
Statistically these teams appeared to match up relatively well with Miami holding a slight edge across the board except rushing offense where Nebraska has a 110 ypg advantage.The Canes offset that with a 114 ypg advantage in passing offense. Defensively Miami is stingy with opponents giving up an average of only 9 points a game all season.The Huskers opponents averaged 15 points a contest.

Season Averages-Before Rose Bowl
Key: Nebraska Miami Fla
Total Offense
Scoring Offense
Scoring Defense
451.0
37.0
15.0
454.0
43.0
9.0
Rushing Offense
Passing Offense
Comp. %
314.0
136.0
55.8
204.0
250.0
57.1
Pre-game Stories
Miami is a very talented team on both sides of the ball. Offensively they are led by Heisman canidate Ken Dorsey and stellar tackles Joaquin Gonzalez and Bryant McKinnie. McKinnie, a senior has never allowed a sack in his career. Miami has a balanced attack that has had no trouble putting points on the board this season averaging 43 points and 454 yards per game, including putting 59 on Syracuse and 65 on Washington. How the Blackshirts respond after being thrashed by Colorado for 62 points in thier last game will be of the upmost importance as to the outcome and the most talked about element of this game.
Defensively the Hurricanes have what most consider the best secondary in the country led by All American xxx. The most anticipated matchup may be the Canes front seven vs Nebraska's power running game. Nebraska led division 1 in rushing again in 2001 averaging 314ypg. Miami outscored thier opponents 475 to 102 this year in 11 games,while Nebraska finished with 449 points while giving up 189 in 12 games.
Miami would appear to have the edge based on a statistical evaluation, so it is no wonder they are an 8 point favorite to win.That margin is realistic based on the information available.The intangibles as always are unmeasurable such as the different opponents each team earned thier stats from playing so we will have to see how it unfolds.It also is not possible for the odds makers to figure in Nebraska's determination and desire to prove the critics wrong about Nebraska's status and participation in the top BCS Bowl despite what happened in Colorado.That game alone should be enough to inspire the Huskers to a higher level of intensity one would think.
---
Schedules and Results in 2001
Miami (Florida) (Big East)

9/1
@
Penn State
W
33
7
9/8
vs.
*Rutgers
W
61
0
9/27
@
*Pittsburgh
W
43
21
10/6
vs.
Troy State
W
38
7
10/13
@
Florida State
W
49
27
10/25
vs.
*West Virginia
W
45
3
11/3
vs.
*Temple
W
38
0
11/10
@
*Boston College
W
18
7
11/17
vs.
*Syracuse
W
59
0
11/24
vs.
Washington
W
65
7
12/1
@
*Virginia Tech
W
26
24
1/3
vs.
Nebraska

11-0

475
103
Nebraska (Big 12)

8/25
vs.
Texas Christian
W
21
7
9/1
vs.
Troy State
W
42
14
9/8
vs.
Notre Dame
W
27
10
9/20
vs.
Rice
W
48
3
9/29
@
*Missouri
W
36
3
10/6
vs.
*Iowa State
W
48
14
10/13
@
*Baylor
W
48
7
10/20
vs.
*Texas Tech
W
41
31
10/27
vs.
*Oklahoma
W
20
10
11/3
@
*Kansas
W
51
7
11/10
vs.
*Kansas State
W
31
21
11/23
@
*Colorado
L
36
62
1/3
vs.
Miami (Florida)

11-1

449
189
Eric Crouch
Two Heisman finalists will face each other with QB Eric Crouch(Heisman winner)starting for Nebraska and QB Ken Dorsey(third) starting for Miami.