Week 3 - It hasn't been pretty but the Big Red is 3-0 after outlasting Iowa.Just win baby may have a whole new meaning in Lincoln.
September 23, 2000
1 Nebraska 42
NR Iowa 13
LINCOLN, Neb. -- Eric Crouch made nearly every pass count against Iowa, and No. 1 Nebraska came away with another victory.Nebraska went to the pass attack and it was effective Saturday.
Nebraska's Keyuo Craver broke up a pass in the first half Saturday as the top-ranked Cornhuskers defeated Iowa.
Crouch only threw the ball 13 times Saturday, but the results couldn't have been much better -- 10 completions, five touchdowns and a 42-13 win over the Hawkeyes.
"You like our new offensive approach?" Crouch joked after matching the school record for TD passes in a game.
Nebraska (3-0) will never be confused with a passing team and even though most of its points came through the air, the Cornhuskers ran for 331 yards against the Hawkeyes (0-4). Dan Alexander rushed for 113 yards, Correll Buckhalter had 100 and Crouch finished with 93 yards on the ground.

But all the Huskers' points came off passes. Crouch, who was 11-for-25 for just one touchdown coming into Saturday, threw three TD passes to Tracey Wistrom and two to Matt Davison. He finished with 159 passing yards.
"It's great to know our passing game is there when we need it," Crouch said. "We've still only thrown what, 38 passes so far? That's not a lot. It's not like it was an air show or the West Coast offense or anything like that. We run the ball, that's what we do."
Crouch threw for 159 yards and tied the school record for TD passes in a game set by Steve Taylor in 1987. Crouch topped his previous best of three TD passes against Kansas State in 1998. "You would never know they are not a passing team," Iowa coach Kirk Ferentz said. "What makes them so dangerous is their running game. They set up the run so well that the pass hurts you." But as great a day as it was, it was far from the expected blowout. The Huskers, off last week, needed overtime to beat Notre Dame two weeks ago.
Against Iowa, Nebraska fumbled three times, losing the ball once after driving to the Iowa 10-yard line. "We had our backs against the wall a couple of times, but our defense did a great job of not allowing them to put points on the board," Nebraska coach Frank Solich said. "You can allow them to rack up yards, as long as they're not racking up points."
The Hawkeyes matched a school record with their 12th straight loss. "The guys were trying hard and giving good effort. We've just got to play smarter, more disciplined football," Ferentz said. An unranked team hasn't beaten No. 1 since Michigan State upset Ohio State in 1998. The Hawkeyes stayed within range until late in the fourth quarter.The Huskers weren't able to put the game away until Crouch's 4-yard TD pass to Wistrom with 1:27 left in the game. Troy Watchorn added a 39-yard interception return for a TD with 55 seconds left. The Hawkeyes, who last lost 12 straight in the 1973-74 seasons, never got their running game going and finished with 47 yards rushing. Scott Mullen was 19-of-40 for 252 yards, but the Huskers had two interceptions and four sacks.
Crouch, who had just one passing touchdown in the Huskers' first two games, threw three TD passes to Wistrom, including a 10-yarder on the opening possession of the third quarter that gave Nebraska a 28-13 lead. "They are dangerous on the ground and in the air," Iowa defensive back Mikkel Brown said. "They don't go for big plays. It's all just misdirection. That's Nebraska for you." Davison caught Crouch's other two scoring passes. Crouch's 43-yard pass to Davison on the final play of the second quarter gave Nebraska a 21-13 halftime lead and sent a deflated Hawkeye team into the locker room.
The Huskers got the ball at their own 20 with 1:44 left in the first half with only a 14-13 lead after two Nate Kaeding field goals for Iowa. Nebraska looked like it was running out the clock when Crouch broke a 25-yard run that set up the Huskers at the Iowa 41 with less than a minute left. After an incompletion and a sack, Crouch hit Davison at the 5-yard line and Davison backed into the end zone. "It was a huge play. Otherwise, we would have gone in 14-13 and that wouldn't have been good," Davison said. "That gave us some momentum." Iowa shocked Nebraska by taking a 7-0 lead on a 29-yard pass from Mullen to Kevin Kasper, who jumped between two defensive backs for the catch. Nebraska tied it on its next possession when Crouch's hit Davison with a 31-yard pass, capping a 10-play, 86-yard drive. Crouch added a 12-yard touchdown pass to Wistrom in the second quarter.

Articles about the game:
A funny thing happened to Nebraska on its way to the end zone five times Saturday afternoon in a 42-13 victory against winless Iowa...
Lincoln Journal-Star

Two words can easily describe Nebraska's Eric Crouch – field general. He commands an army of 10 of the most terrifying, blood...
Pigskin Post

There's no need to start churning out massive shipments of "Air Crouch" T-shirts just yet, but Nebraska quarterback Eric Crouch...
Grand Isle Independent

The Iowa game appeared to those that didn't watch as a typical Husker trouncing, but we know different. There are many takes on...
Big Red Central

---
Week 4 - Welcome to chapter 4 in the year of the upset.College football is on a wild ride this season with the unbeaten teams dropping off like flies,and other top ranked teams slipping by sub-par foes.
September 30,2000
#1 Nebraska 42
NR Missouri 24

MU
Again Nebraska looked very average in Saturday's 42-24 win over Missouri,in response Nebraska was dropped to No. 2 in the Associated Press Top 25. The Cornhuskers remained No. 1 in the ESPN/USA Today coaches' poll. Defending champion Florida State moved into No. 1 .
The Blackshirts know they are not up to par this season,rush end Vanden Bosch said about dropping in the polls "We can't do anything about that, but one thing we can do is work on ironing out our mistakes and come out and play the dominating type game that I know we can play."
Nebraska center Dominic Raiola said that the Huskers are always aiming for a dominant performance,but the team is happy to win and move on. "You always want to beat a team bad, but being No. 1, you're going to get everyone's best shot," Raiola said. "Winning is all that matters. If you win all your games, there's a good chance that you'll get to play in the national championship game. Let the polls say what they want to say."
Following a 27-24 overtime win at Notre Dame and a uninspired 42-13 victory over winless Iowa, the Seminoles had been steadily closing the gap on Nebraska. ESPN's Chris Fowler -- one of the most high-profile of the 71 media poll voters -- repeatedly said that if Nebraska wasn't impressive against Missouri, it would more than likely lose his No. 1 vote.It is safe to say the Husker's knew it was coming.
Florida State (5-0), which became the first team to go wire-to-wire at No. 1 in the AP poll last season, inched past Nebraska (4-0). The Seminoles, who cremated Maryland 59-7 Thursday night received 42 first-place votes and 1,745 points. The Cornhuskers had 28 first-place votes and 1,731 points. Last week, Nebraska had 39 first-place votes and 1,743 points compared to Florida State's 30 first-place votes and 1,732 points. In the new poll, Florida State gained 12 first-place votes, while the Huskers lost 11 first-place votes. Nebraska's tumble in the AP poll marked the first time that a No. 1 team won and was still demoted since it happened to Penn State -- twice -- in 1997. The Huskers also plummeted from No. 1 that season after a 45-38 overtime win at Missouri. NU slipped from No. 1 to No. 3 following the narrow escape in Columbia, Mo. In the new coaches' poll, Nebraska and Florida State remained 1-2, but the Seminoles took seven first-place votes away from Nebraska. The Huskers collected 37 first-place votes and 1,452 points, while Florida State totaled 21 first-place votes and 1,434 points.
Nebraska I-back Dan Alexander said that he thinks opponents are rising to the occasion when they meet the Huskers. "I think opponents are playing up to our level," Alexander said. "I don't think we've played a complete game yet. We're not on top of our game right now and I think we're letting ourselves down at times, but I really think teams are out there giving us their best shot. "That's hard for us, but we've got to be prepared for that. I don't think we had the best practices this past week and we were kind of playing at a low level."
Nebraska quarterback Eric Crouch, who passed for 173 yards and two touchdowns and ran for 110 yards and another score, said he thinks the Huskers are on the verge of playing like a No. 1 team. "It just seems like we haven't put everything together yet as an offense, defense and special teams," Crouch said. "I think we're just right there. There's just a few small things we need to fix and we'll be there right in it."
First, it was shitty special teams play that was causing Nebraska's coaching staff concern. Now the defense sucks. Missouri outgained Nebraska 492-484 in total offensive yardage. The Huskers, who entered the game ranked 27th nationally in total defense, let the Tigers gain 10 or more yards on 19 of 70 offensive snaps. MU had 283 yards passing and 209 yards rushing. "Certainly, we're concerned," Nebraska defensive coordinator Craig Bohl said. "But what you've got to do is stay positive as a coach. "We're going to really go back to the drawing board as far as some of our designs and we'll take a critical look at the tape and come out on Monday and work to get better."
Bohl said he thinks Nebraska's defensive problems can be corrected. "I'm not alarmed and we're not going to panic," Bohl said. "We've got an experienced coaching staff and we've got an experienced scheme and there's a philosophy that we have. What we need to do is keep on taking steps to get better." ....DUH REALLY !!Alot Better or it may become a long season.
---
Week 6 - All week the state of Iowa was a buzz with talk of knocking off a seemingly vulnerable Husker team.Results:A steadily improving Husker sqaud,did what the Huskers always do to Iowa.Beat them!
October 7,2000
*#2 Nebraska 49
Iowa St. 27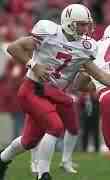 Another big day for Nebraska's Eric
Crouch against undefeated Iowa State.
Second ranked Nebraska(#1 in coaches poll) was behind at the half (14-13)for the first time this year,but rallied in the second half for 5 touchdowns and a 49-27 victory over the pesky cyclones of Iowa St. Crouch ran for 138 yards and passed for 164 to keep the Cornhuskers (5-0 overall, 2-0 Big 12) in contention for the national title after trailing for the first time at halftime this season. "Part of football is overcoming adversity and that's one of the things we talked about at halftime," said Crouch, whose 1-yard run in the fourth quarter gave him eight rushing touchdowns to go with his eight passing TDs. "We're a powerful football team and offense is something we take pride in," Crouch said. "We knew what they were going to line up in. It was a matter of picking out the plays that we wanted to run and executing every single one of them."

Nebraska did allow more than 250 passing yards for the third straight game, but could be back at No. 1 after dropping a spot last week. Top-ranked Florida State opened the door with a 27-24 loss at No. 7 Miami on Saturday. "No doubt about it. If we're not No. 1 I don't know who is," said Corell Buckhalter, who had two short touchdown runs for the Cornhuskers.
The Cyclones (4-1, 1-1), off to their best start in 20 years, led 14-13 at halftime but could not stop Nebraska in the second half as the Huskers scored five touchdowns. Sage Rosenfels was 22-of-42 for 346 yards and two touchdowns to lead Iowa State. But the Cyclones, who averaged 227.5 rushing yards, couldn't run the ball and finished with just 37 yards on the ground. "We got beat up front. We didn't run the ball," Iowa State coach Dan McCarney, who fell to 0-6 against Nebraska. "They were more physical than we were. We didn't sustain blocks." It was the first time since McCarney took over at Iowa State in 1995 that the Cyclones haven't lost to the Huskers by at least 35 points. "We played a lot more good snaps against Nebraska than we ever have in the past," McCarney said. "We went into this football game trying to win, not be respected, trying to close the gap. We weren't able to do it."
Iowa State was within range of the upset until Crouch took over in the second half, shaking off a second-quarter interception that the Cyclones returned for a touchdown. Crouch was nearly flawless in the second half, completing 3-of-3 passes for 53 yards. He also rushed for 79 yards in the half to lead Nebraska on four of its final five scoring drives. Crouch finished 7-for-17 for 164 yards. Crouch's 1-yard touchdown run with 4:05 left was the Huskers' fourth of the second half. It was the first of the game for Crouch, but he played a large part in the Huskers' next three. Crouch had a 22-yard run in a 39-yard drive that set up Buckhalter's goal-line dive that gave Nebraska a 19-14 lead early in the third quarter. Crouch also hit Aaron Golliday with a pass for the 2-point conversion.
After an Iowa State touchdown and failed point-after try brought the Cyclones to 21-20, Crouch led the Huskers on an 11-play, 70-yard drive for a 28-20 lead that ended on Willie Miller's 9-yard touchdown run. Crouch kept the drive going with a 25-yard pass to Buckhalter and a 20-yard strike to Tracey Wistrom on third downs. Buckhalter added a 1-yard touchdown run in the fourth and backup QB Jamaal Lord added a late TD on a 6-yard run. The Cyclones took a 7-0 lead on Rosenfels' 53-yard pass to Craig Campbell, who got behind Nebraska's secondary and scored untouched in the first quarter. Jamarcus Powers stepped in front of Crouch's pass and outran the quarterback in a dash for the end zone and the Cyclones led 14-13 at halftime. It was the first time Nebraska had trailed at the half this year. Buckhalter scored on a 9-yard run that tied it at 7 and Josh Brown hit field goals of 40 and 24 yards. The Huskers drove inside the Iowa State 30 three other times in the half, but did not convert. Crouch was stopped on a fourth-and-3 at the Cyclones' 24 and Brown missed field-goal attempts of 39 and 48 yards.

Nebraska regained it's number one position in the AP poll,and remains #1 in the coaches poll after this weekends games.Kansas St moved to #2 giving the Big 12 the top 2 teams as Florida St dropped to seventh after losing to Miami.

Nebraska Cornhuskers vs. Iowa State Cyclones
Box Score

Team 1 2 3 4 F
Nebraska Cornhuskers 0 13 8 28 49
Iowa State Cyclones 7 7 6 7 27

First Quarter
-------------
Iowa State--(5:19)--Craig Campbell 53 yard TD PASS from Sage Rosenfels
Iowa State--(5:19)--Mike McKnight EXTRA POINT
Nebraska--(14:16)--Josh Brown 39 yard MISSED FG

Second Quarter
--------------
Nebraska--(1:32)--Correll Buckhalter 9 yard TD RUN
Nebraska--(1:32)--Josh Brown EXTRA POINT
Nebraska--(4:15)--Josh Brown 40 yard FIELD GOAL
Iowa State--(6:48)--Jamarcus Powers 40 yard INTERCEPTION RETURN for TD
Iowa State--(6:48)--Mike McKnight EXTRA POINT
Nebraska--(9:31)--Josh Brown 24 yard FIELD GOAL
Nebraska--(14:41)--Josh Brown 48 yard MISSED FG

Third Quarter
-------------
Nebraska--(3:47)--Correll Buckhalter 1 yard TD RUN
Nebraska--(3:47)--Aaron Golliday TWO POINT PASS from Eric Crouch
Iowa State--(8:14)--Ennis Haywood 4 yard TD RUN
Iowa State--(8:14)--Mike McKnight EXTRA POINT MISSED

Fourth Quarter
--------------
Nebraska--(3:51)--Willie Miller 9 yard TD RUN
Nebraska--(3:51)--Josh Brown EXTRA POINT
Nebraska--(5:05)--Correll Buckhalter 1 yard TD RUN
Nebraska--(5:05)--Josh Brown EXTRA POINT
Nebraska--(10:55)--Eric Crouch 1 yard TD RUN
Nebraska--(10:55)--Josh Brown EXTRA POINT
Iowa State--(11:54)--J.J. Moses 15 yard TD PASS from Sage Rosenfels
Iowa State--(11:54)--Mike McKnight EXTRA POINT
Nebraska--(13:59)--Jammal Lord 6 yard TD RUN
Nebraska--(13:59)--Josh Brown EXTRA POINT

-------------------------------------------------------------------
Cornhuskers | Cyclones
First Downs 20 | 18
Rushing 13 | 2
Passing 7 | 14
Penalty 0 2
Third Down Eff. 8-16- 50 | 5-15- 33
Fourth Down Eff. 1- 2- 50 | 0- 1- 0
Rushes-Net Yards 60-336 | 25- 37
Average Per Rush 5.6 | 1.5
Yards Rushing 347 | 64
Yards Lost Rushing -11 | -27
Comp-Att-Int 7-17-1 | 22-43-2
Net Passing Yards 164 | 346
Sacks-Yards Lost 0- 0 | 1- 8
Average Per Pass Play 9.6 | 7.9
Total Offensive Plays-Net Yards 77-500 | 68-383
Average Gain Per Play 6.5 | 5.6
Return Yards (exc. KOs) 82 | 45
Int Ret-Yds 2- 9 | 1- 40
Punt Ret-Yds 6- 73 | 1- 5
Kick Ret-Yds 2- 20 | 2- 57
Punts-Yards 2- 85 | 8-302
Average 42.5 | 37.8
Fumbles-Lost 1- 0 | 2- 0
Penalties-Yards 5- 38 | 8- 71
Time of Possession 33:11 | 26:49
-------------------------------------------------------------------

RUSHING--NEBRASKA: Eri.Crouch 19-138, Dan Alexander 21-96,
Dah.Diedrick 3-39, Wil.Miller 5-29, Cor.Buckhalter 9-20, Jam.Lord 1-6,
Bob.Newcombe 1-5, Jud.Davies 1-3. IOWA STATE: Enn.Haywood 11-27,
J.J.Moses 2-14, Mic.Wagner 4-4, Cas.Baldwin 1--2, Sag.Rosenfels 7--6.
PASSING--NEBRASKA: Eri.Crouch 7-17-1-164. IOWA STATE:
Sag.Rosenfels 22-42-1-346, Lan.Danielsen 0-1-1-0.
RECEIVING--NEBRASKA: Tra.Wistrom 4-101, Bob.Newcombe 2-38,
Cor.Buckhalter 1-25. IOWA STATE: J.J.Moses 11-158, Chr.Anthony 4-43,
Cra.Campbell 3-119, Enn.Haywood 3-13, Mik.Banks 1-13.
INTERCEPTIONS--NEBRASKA: Tro.Watchorn 1-9, Wil.Amos 1-0. IOWA STATE:
Jam.Powers 1-40.
PUNTING/LG--NEBRASKA: Dan Hadenfeldt 2-85-54. IOWA STATE:
Car.Gomez 8-302-52.
PUNT RETURNS/LG--NEBRASKA: Bob.Newcombe 4-29-33, Joe Walker 2-44-37.
IOWA STATE: J.J.Moses 1-5-5.
KICKOFF RETURNS/LG--NEBRASKA: Bob.Newcombe 1-20-20,
T.J.Hollowell 1-0-0. IOWA STATE: J.J.Moses 3-41-22,
JaM.Billups 1-16-16.
MISSED FIELD GOALS--NEBRASKA: Jos.Brown 39, 48. IOWA STATE: --None.

Attendance: 50,074 Time of Game: 3:29
Articles about the Iowa St. game:
Nebraska head coach Frank Solich is getting used to The Eric Crouch Show. He especially likes the endings. The junior quarterback only...
Grand Isle Independent

The Cyclones gave the Huskers a game for 3 quarters but football games are four quarters long. Eric Crouch turned in another...
Big Red Central

Call Johnny Cochran. Get Ralph Nader on the phone. Nebraska has been screwed, and it 's wrong. The huskers shouldn't have...
The Sporting News

"Where's Charlie McBride?" "Where's the defense?" "Why don't they blitz ?" "How come they suck...
Lincoln Journal-Star

Shitty football at Iowa State is something of a tradition-kinda like another Iowa tradition ,dating your sister, ...
Big Red Central

Solich said he thinks this Iowa State team is capable of giving Nebraska its best test so far this season. "I think they have made...
Grand Isle Independent