Nebraska Football Headline News-
Go here for todays Husker headlines,aquired from multiple sources. Also archived headlines.
---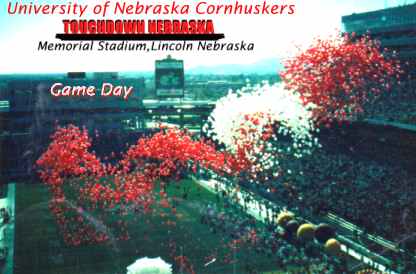 10-29-2000 Three Huskers hit 2000 yard mark.
Nebraska now has three 2,000 yrd career rushers playing, hitting the mark in the same football season as Crouch joins Husker I-backs Dan Alexander (2,107 for 18th) and Correll Buckhalter (2,342 for 11th).
11-11-2000 Crouch all time best rushing quarterback
Crouch ranks among the Nebraska Cornhusker's career top 10 in nearly every category and already ranks as Nebraska's all-time best rushing quarterback. He has already passed several stellar Husker QBs, including Tommie Frazier (the 1995 Heisman runner-up that led NU to back-to-back national championships in 1994 and 1995), Scott Frost (led Huskers to a national championship in 1997) and Turner Gill (fourth in 1983 Heisman race, national championship game in 1983). Crouch also passed 1983 Heisman Trophy winner Mike Rozier on the Husker total offense chart.
NU First to Win 100 Games in Back-to-Back Decades
Nebraska recorded its 100th win of the 90s with a 40-10 win over Missouri in Columbia on Sept. 25 and finished with a 108-16-1 mark in the 90s (.868, second). Nebraska is the first Division I program to win 100-plus games in consecutive decades as NU won 103 games to 20 losses in the 80s. The only other team to post 100-plus wins in the 80s was Brigham Young with 102 wins and 26 losses. Oklahoma (102-13-3) and Alabama (103-16-1) posted 100-plus wins in the 70s, while Nebraska came close to achieving the mark in three consecutive decades, as NU won 98 games in the 70s. Florida State finished the 90s with a 109-13-1 record (.890, first), but had just 87 wins in the 80s. By decade, the Huskers were 75-30-1 in the 60s (.712); 98-20-4 in the 70s (.820, fifth nationally) and 103-20-0 in the 80s (.837, first). Nebraska posts the best record over the past three decades with a 309-56-5 record. The Huskers have not lost more than 20 games in any of the last three decades.

NU Posts Stellar 90s Record
With three national championships, there's no doubt that the Nebraska Cornhuskers were among the best in the last decade. Nebraska had 108 wins in the 90s. NU's 60-3 five-year run from 1993-97 was not only impressive, but unprecedented in NCAA Division I-A. NU is 81-8 over the last seven years and its five-year record of 58-6 from 1994-98, led the nation. In 1993, the Huskers went 11-1 losing only to Florida State, 18-16, in the Orange Bowl for the national championship. That began a run of wins, records and crystal collections. Nebraska followed 1993 with three perfect seasons in four years, winning national titles in 1994 (13-0), 1995 (12-0) and 1997 (13-0). No other team won three titles in the 90s.
Records - Streaks - Standings
NCAA Coaches with most Wins
1. Paul 'Bear' Bryant 323
2. Pop Warner 319
3. x-Joe Paterno 317
4. Amos Alonzo Stagg 314
5. x-Bobby Bowden 304
6. Tom Osborne 255
7. x-LaVell Edwards 251
8. Woody Hayes 238
9. Bo Schembechler 234
10. Hayden Fry 232
11. x-Lou Holtz 217
12. Jess Neely 207
13. Warren Woodson 203
T14. Vince Dooley 201
T14.Eddie Anderson 201
16. Jim Sweeney 200
17. Dana Bible 198
18. Dan McGugin 197
T19. Fielding Yost 196
T19..Howard Jones 196

x - Active
T-Tie

---

HUSKER MILESTONE WINS

No. 1 = NU 10, Omaha YMCA 0 -- Omaha, Nebraska, Nov. 27 1890
No. 100 = NU 63, Denver 0 -- Denver, Nov. 16, 1907
No. 200 = NU 12, Oklahoma 0 -- Lincoln, Oct. 31, 1925
No. 250 = NU 7, Iowa 6 -- Lincoln, Nov. 25, 1933
No. 300 = NU 7, Oklahoma 0 -- Norman, Oct. 24, 1942
No. 400 = NU 38, Colorado 13 -- Lincoln, Oct. 23, 1965
No. 500 = NU 51, Kansas State 0 -- Lincoln, Oct. 16, 1976
No. 600 = NU 48, Missouri 17 -- Lincoln, Oct. 18. 1986


HUSKER CONSECUTIVE SELLOUT GAMES

No. 1 = Missouri 16, UN 7 -- Nov. 3, 1962
No. 100 = NU 42, Penn State 17 -- Sept. 29, 1979
No. 200 = NU 24, Colorado 7 -- Oct. 29, 1994

HUSKER NEWS | HISTORY
Husker Title Runs
NU has played in nine national championship bowl contests, winning back-to-back national championship titles in 1970 and 1971 and again in 1994 and 1995. The Huskers had a shot at the 1996 title until they were upset in the Big 12 Championship by Texas. NU entered that game ranked No. 3, despite an early-season loss at Arizona State. In 1997, Nebraska went 13-0 and played in its fourth title game in a five-year period, winning the national title as named by the coaches poll, but not by the AP.
The Huskers' back-to-back national championship titles in 1994 and 1995 marked the ninth time overall (by just six Division I schools) and first time in 16 years that a team had repeated, since Alabama won back-to-back titles in 1978-79. Nebraska is only the second school to win undefeated and consensus back-to-back national titles, the first since Oklahoma accomplished that feat in 1955-56. No Division I-A school has won three consecutive national championships. Hall of Fame Coach Bob Devaney (who passed away in May of 1997) won the school's first national title in 1970 and repeated in 1971. Three teams, counting Nebraska, have repeated twice, including Oklahoma (1955-56 and 1974-75) and Alabama (1964-65, 1978-79). Nebraska and Oklahoma are the only schools, since the coaches began picking national champions, to be unanimous repeat champions, in both polls, posting perfect, back-to-back national championship seasons. OU went 11-0 in 1955 and 10-0 in 1956. The Huskers are the only team to have won four AP and four coaches poll titles since 1970. Nebraska (1994, 1995, 1997 by coaches) and Notre Dame (1946, 1947, 1949 by AP) are the only two teams to win three national titles in a four-year period.
1997 Osborne Steps Down After 25 Years
Legendary coach Tom Osborne announced his retirement after an unmatched 25 year stint at Nebraska. Osborne compiled a 254-49-3 (.828) record as head coach for the Huskers.Assistant and running backs coach Frank Solich,Osbornes hand picked succesor took over as Head Coach.Osborn is the only coach in NCAA history to retire as the reigning National Champion,doing so after back to back titles in 94-95 and another in 97,that's 3 championships in the last 4 years he coached.That looks good on the resume.More Osborne info:Tom Osborne
In 2000 Turner Gill
is entering his 7th season as the QB Coach for Nebraska .Turner was the quarterback for Nebraska from 1980-1983. During 1981-1983 he led the Huskers to a 28-2 record. In his 4 year career for Nebraska his passing stats were: 231-428, 3,317 yards, 34 touchdowns, for a .540 completion percentage. Turner finished 4th on the all-time total offensive chart with 4,634 yards. He has coached such standouts as: Mike Grant, Tommie Frazer, Brook Berringer and Scott Frost,Bobby Newcomb,and Eric Crouch,and future star Jamal Lord.
Johnny Rodgers
Leading the nation's number one team the Nebraska Cornhuskers, Rodgers proved his worth as one of the best backs in Cornhusker history. The Huskers used Rodgers as a punt returner, pass receiver, blocker, and runner, he broke offensive records by the dozens. In his three-year Husker football career he racked up 5,586 all-purpose yards for an NCAA record.His 72-yard punt return for the first touchdown ignited the Huskers's thrilling 35-31 victory over Oklahoma in the Game of the Century in 1971. Johnny Rodgers was signed by the Montreal Alouettes where his quickness and versatility made him a valuable favorite over several seasons. He also had a career with the San Diego Chargers in the NFL.Rodgers remains one of the Husker football fans all time favorites and most notable legends. More links to Johnny 'The Jet' Rodgers below....
Heisman | Hall of Fame | Game of the Century | Champs

---
Past Husker football headlines:

The 1923 edition of the Nebraska Cornhuskers appeared to be ready for a fall at the hands of mighty Notre Dame. The "Fighting...
Husker Press Box

No one needs to tell the Spartans that the phrase "prohibitive underdog" falls far short of sizing up their status for next Saturday's...
Omaha World-Herald

The Nebraska football team has twice selected five captains - in 1995 and 1998. Until Friday, the Huskers had never named six...
Lincoln Journal-Star

But don't let facts get in the way of a rivalry, like the fact that FSU hasn't played Nebraska since New Year's Day 1994, when Bobby...
Tampa Tribune

News stories from the entire 2000 season and earlier found here.
More Archived Husker Headlines Here

LINKS
This N That Archives:
2000
8-11-00 to 8-30-00
7-20-00 to 8-11-00
7-1-00 to 7-20-00
6-1-00 to 7-01-00
Thunder Collins
Big 12 Preview
Big 12 Media Day
2000 Huskers
2000 Contenders
Winning Tradition
Records fall in 99
Memorial Stadium
Husker Headlines
2000 season